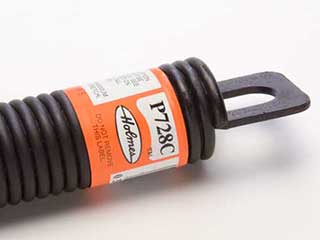 The balance and smooth movement of your door relies on a system of springs. These springs are under a great deal of tension and when they fail to function correctly, opening your door can become a phenomenal challenge. Attempting to either personally repair or replace these components yourself, can put you at serious risk. As skilled professionals, our team specializes in the repair and replacement of garage door springs - we are always on hand to help you get your system up and running again safely in no time at all.
Spring Function And Safety
There are two types of garage door spring - torsion and extension, and while their end result is the same, they operate in very different ways. Torsion springs lower and raise the panels via a twisting and unwinding action. When they break, they are less like to fly off, posing less of a threat. Extension springs are installed in pairs, one on either side of the door. They are thinner and operate by stretching and contracting. When they break, they can fly with enough force to shatter a windshield. As you can probably tell, broken and significantly worn springs are dangerous and should only be handled by experts.
Repairing And Replacing Broken Springs
Generally speaking, when a garage door spring breaks, it is preferable to replace rather than repair these vital components. While professional spring adjustment and lubrication can help to combat gradual wear and tear, the safest way to fix a broken spring is to replace it with a new one. Our team can do this for you quickly, and more importantly, safely.
Don't Go It Alone
You shouldn't attempt to deal with a spring-related malfunction alone. Instead, call our local team of skilled professionals at Garage Door Repair Surprise. We will check that your unit is fully functioning and operating safely. If we discover this is not the case, we will quickly replace them. To book a service appointment, use our online booking system or give us a call today!
Let our team take care of it for you!

Garage Door Tune Up Services

LiftMaster Garage Door Openers

Garage Door Cable & Track Repairs

Galvanized Torsion Spring Installation