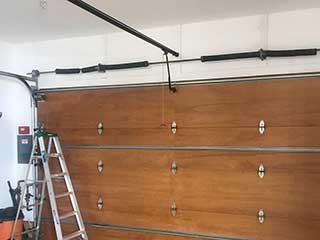 Most people take their garage door system for granted. This mechanism is an intricate pieces of machinery that functions fantastically when all of its components are working in synchrony with each other. When even a single part fails to do so, however, things can go wrong rather quickly. Early detection ensures small problems are identified before they can start affecting other areas, and become bigger issues.
Yearly Check Ups
Your garage door will practically never fail you without warning. There are always some symptoms or warning signs to alert you, but they're not always obvious. Your door may not move smoothly, it could be making weird noises, or it may not close all the way as it should. Our company can arrange a yearly checkup of your system with technicians who are experts at examining every part of the mechanism and identifying any problems. We'll then explain the issues we found to you and what we can do to fix them.
The Benefits of Regular Upkeep
The benefits of regular garage door maintenance come in many forms. For once, it can allow you to avoid major repairs that will be more costly than routine examinations. The other major benefit is that a well-functioning door, is a safe door, and if all of the moving metal parts are properly lubricated and all of the safety features are tested and adjusted, then you'll be able to rely on this mechanism to not only work safely, but to also last for a lot longer.
Spring Tension Adjustment
Your garage door springs are in charge of keeping your door balanced and providing the tension-based force required to help open and close it. Because they're the hardest working parts of the entire system, the wear and tear they go through is substantial, and as time goes by, they will require some adjustments to continue functioning optimally. As part of our maintenance service, we will test the balance of your door and make sure that the tension of the spring is optimal. This type of task is dangerous, so you should never attempt to carry it out on your own.
Leave It Up To Us
Our experts at Garage Door Repair Surprise have the knowledge and the skills to make sure that every part of your system is functioning at peak efficiency. Schedule a maintenance appointment today and enjoy a door that's able to work more reliably and with a longer service life.
Give our team a call if you need help with:

Door Level Alignment

Opener Clicker Repair

Emergency Broken Spring Replacement

Maintenance Garage Door Torsion Spring