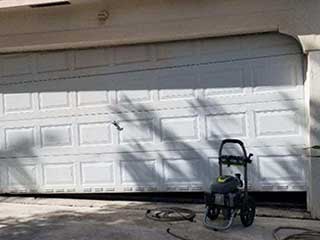 There's no limit to what our company has to offer when it comes to your garage door system. If you've noticed a problem or malfunction, be it with the opener, springs or panels – you can count on our team to fix, adjust, or replace them (or any other parts) safely and professionally!
Replacing Busted Panels
The panels on your sectional doors usually get the brunt of it when there's a significant parking mishap near your garage. If your panels get hit, they can be pulled out of alignment and warped out of shape. There is a silver lining, however - because a sectional door is separated into panels, each of these panels can be replaced with a new one meaning there's no need to replace the whole door following an accident. If you're keen to get your busted panels gone, our team can sort this for you.
Garage Door Repair And Maintenance
When dealing with machines that use mechanical and electronic components, it is typical to experience a few kinks every now and then. This, however, shouldn't discourage you from getting an automatic garage door installed - most of their components last for a very long time and their eventual failure can be more or less predicted so that you can replace them in time to prevent a breakdown. You can also count on our company to provide you with periodic safety checks and maintenance work to keep things in check and working optimally for as long as possible.
Dealing with Garage Door Springs
Garage door springs are known to be dangerous when they are mishandled. This is because both the extension and torsion springs are essentially loaded with a lot of force. If you're tinkering around with them and happen to accidentally release this stored force, the results can be devastating. These components can whip around, causing damage and injury if you're in the vicinity. If you need your springs looked at, whether installed, replaced or adjusted, just give us a call.
Roller And Track Problems
The Rollers and tracks allow the heavy door to glide up and down in a set, predictable path. If the tracks become bent out of the proper alignment or if there is obstruction along this path, then the rollers won't be able to guide the door smoothly, leading to shaking or uneven opening and closing. If you notice this with your door, then call our team at Garage Door Repair Surprise - we'll fix this problem for you.
Count on our team for:

Track Alignment & Repair

Torsion Spring Adjustment

Garage Door Safety Inspections

Screw Drive Opener Replacement